MAYBE…
(Third Letter to Don Luis Villoro in the Interchange on Ethics and Politics) 
ZAPATISTA ARMY FOR NATIONAL LIBERATION
MEXICO.
July-August, 2011.
To: Don Luis Villoro.
From: SupMarcos
Don Luis:
Please accept greetings from all of us and a strong embrace from me. We hope that your health has improved and that the pause in our exchange has helped to generate new ideas and reflections. Although the current reality appears to rush forward dizzily, a serious theoretical reflection should be capable of "freezing" a moment in order to discover, by revealing its gestation, certain tendencies that allow us to see where it is headed.
(And speaking of reality, I remember that it was in the Zapatista La Realidad where I proposed to Don Pablo González Casanova an interchange: he would send me a package of Pancrema cookies and I would send him a supposed and improbable book of political theory (or something of that sort). Don Pablo kept his word, but the delayed pace of our calendar here has impeded me from fulfilling my part of the exchange… yet. But I think that during the next rains there will be more words).
As has perhaps been insinuated in our correspondence (and in letters from those who, generously, have adhered to this debate), theory, politics, and ethics are interwoven in ways that are not obvious. Certainly we are not trying to discover or create TRUTHS, those millstones that abound in the history of philosophy and its bastard offspring: religion, theory, and politics.
I think that we would be in agreement that our efforts here aim more toward trying to make visible the contours, substantial but not obvious, of those interweavings.
To "bring down" theory to concrete analysis is one path. Another is to anchor it in practice. But this practice is not carried out in the epistles; at most one makes note of it. For that reason I think we should continue to insist on "anchoring" our theoretical reflections in concrete analysis or, more modestly, trying to mark its geographic and temporal contours. That is, we should insist that words are said (or written, in this case) from a specific time and place, from a particular calendar and geography.
I. The local mirror
Year 2011, Chiapas, Mexico, Earth.
Here in this calendar and geography, we continue to be attentive to what is happening, what is said, and above all, what is kept silent.
In our lands we continue our resistance. The aggressions against us from across the political spectrum continue. We are an example of what is possible when all of the political parties have the same objective. Sponsored by the federal, state, and municipal governments, all of the political parties attack us.
Before and after each aggression, there is a meeting between government officials and "social" or party leaders. In these meetings little is said, it is only necessary to agree on the price and the form of payment. Those who criticize the Zapatista position that "all the politicians are the same" should take a trip through Chiapas…though they would no doubt claim that this is a strictly local phenomenon, that these things don't of course happen at a national level.
But the Chiapan political class repeats, each with its own autochthonous touch, the same ridiculous routines of pre-electoral times. There are internal "balancing of accounts" (same as in the criminal gangs) that are disguised in the political class as "justice." But everywhere it is really about the same thing: clear the way for the next to be elected, whoever's turn it is. Everything that happens below is tagged as the conspiracy of various rivals. Everything that happens above is distorted or quieted.
With regard to the media politics of paid praise, for Chiapas there is no difference between the press in the national capital and press in the state. Can anyone speak seriously of justice in Chiapas when one of those responsible for the Acteal massacre, Julio César Ruiz Ferro, continues to walk free? "My dear president don't you worry, let them kill each other, I'm going to send in public security to pick up the bodies," said then governor of Chiapas, Julio César Ruiz Ferro, to Jacinto Arias Cruz, mayor of Chenalhó, who had warned him of an imminent conflict in Acteal on December 19, 1997. (María de la Luz González, El Universal. December 18, 2007).
And what can we say about "El Croquetas" (the dog biscuit) Roberto Albores Guillén, responsible for the massacre in El Bosque, who in addition has erected an empire of crime and corruption that permits him now to secretly play with both Juan Sabines and his own "rooster," el coleto (originary of San Cristobal de las Casas) Manual Velasco, in order to return to the governership of Chiapas? (Speaking of "roosters," will Lopez-Obradorism ever take responsibility for having helped to recycle the worst of Priista politics in Chiapas?)
Ah, the old rivalry between the ancient political classes of Comitan, San Cristobal de las Casas, and Tuxtla Gutierrez (by the way, their antecedents can be found in Antonio García de León's book: "Resistance and Utopia: Memorial of Affronts and Chronicles of Revolts and Confirmed Prophecies in the Province of Chiapas during the last 500 years of its History," from good old Neus Espresate's ERA press).
While suspicions of a political storm proliferate in the Chiapas of above, Juan Sabines Guerrero seems still committed to the line that so many times before failed "Croquetas" Albores: encourage groups, paramilitary or not, to assault the Zapatista communities; conceal the increase in criminal mafias, both those with or without political party alibi; maintain impunity for those close to him; and use simulation as or in place of government program.
The local and national press, well "greased" with money, doesn't manage to hide, with the disguise of unanimity, the intestinal war of the politics of above.
With regard to all of this, it is sufficient to point out the following: the internal rules of the political class have been broken for a long time. The jailers of yesterday are today in jail, and today's persecutors will be tomorrow's persecuted.
It's not that they don't make "agreements," but rather that they are no longer capable of carrying them out.
And a political class that cannot fulfill its internal agreements is a cadaver awaiting burial.
No, the political class above doesn't understand anything. But above all it does not understand the most fundamental: its time has finished.
Governing has ceased to be a political task. Now, the work par excellance of governing officials is simulation. More important than their political and economic advisors are their image, publicity, and marketing advisors.
That is how it is done today in the governing classes of Mexico, while local, regional, and national realities are falling apart.
Government bulletins disguised as "reports" or "journalistic articles" do not manage to cover the economic crisis: in the principal cities of Chiapas we begin to see a rise in indigence and the most marginal of "employment." The poverty that seemed to belong exclusively to rural communities is beginning to grow in the urban zones of the Mexican Southeast.
Just like in the rest of national territory.
Does it seem that I am talking about the politics of above at the national and not local level?
Ah, the fragments of the broken mirror, irremediably broken…
II. An epitaph for a political class or for a nation? 
Felipe Caderón Hinojosa (president thanks to the now-confessed manipulations of Elba Esther Gordillo) dresses up like a tourist guide in order to encourage more than just police and military visits from North America, and looks out over the Sótano of Las Golondrinas in Aquismón, San Luis Potosí, and exclaims "Oh my god!"(http://mexico.cnn.com/nacional/2011/08/17/ calderon-promueve-destinos-turisticos-en-el-programa-the-royal-tour). He could easily be saying the same about the abyss the country has fallen into during his mandate.
According to statistics revealed by the National Council for the Evaluation of Social Development Policy (CONEVAL), the number of poor people in Mexico has increased from 48.8 million to 53 million. Almost half of the Mexican population live in conditions of poverty. Almost 12 million people live in conditions of extreme poverty. And if one looks at the maps of the CONEVAL, you realize that the areas of poverty that before were identified with the states of the south and the southeast of Mexico (Guerrero, Oaxaca, Chiapas) have begun to extend to the states in the north of the country.
The prices of basic products have doubled and tripled during this six-year presidency.
Variation in increase of prices of products

Product
Accumulated increase between 1/12/06 and 1/3/11
Price in 2006
Price in 2011
1
Avocado
239.04%
$12.09
$28.9
2
Lime
230.45%
$6.01
$13.85
3
Sugar
199.31%
$7.24
$14.43
4
Beans
199.50%
$10.03
$20.01
5
Tomato
141.74%
$9.75
$13.82
6
Egg
144.65%
$11.58
$13.82
7
Cheese
193.55%
$40.77
$78.91
8
White bread
175.00%
$1.00
$1.75
9
Tortilla
153.26%
$6.74
$10.33
Nominal minimum salary
22.90%
$48.67
$59.82
Taken from the "Research Report No. 90 Mexico, Consequences of the economic policy applied to workers 2006-2011, Center for Multidisciplinary Analysis (C.A.M.)
———————-
According to data from the Center for Multidisciplinary Analysis, in order to have sufficient money to acquire the basic recommended daily food requirement, it was necessary, at the beginning of Felipe Calderón Hinojosa's administration, to work 13 hours and 19 minutes per day. Five years later, in 2011, it is necessary to work 22 hours and 55 minutes.
Meanwhile, the profits of millionaires have quadrupled in the last 10 years.
Results of some of the principal economic indicators in Mexico, 2000-2011 (by variation in percentage)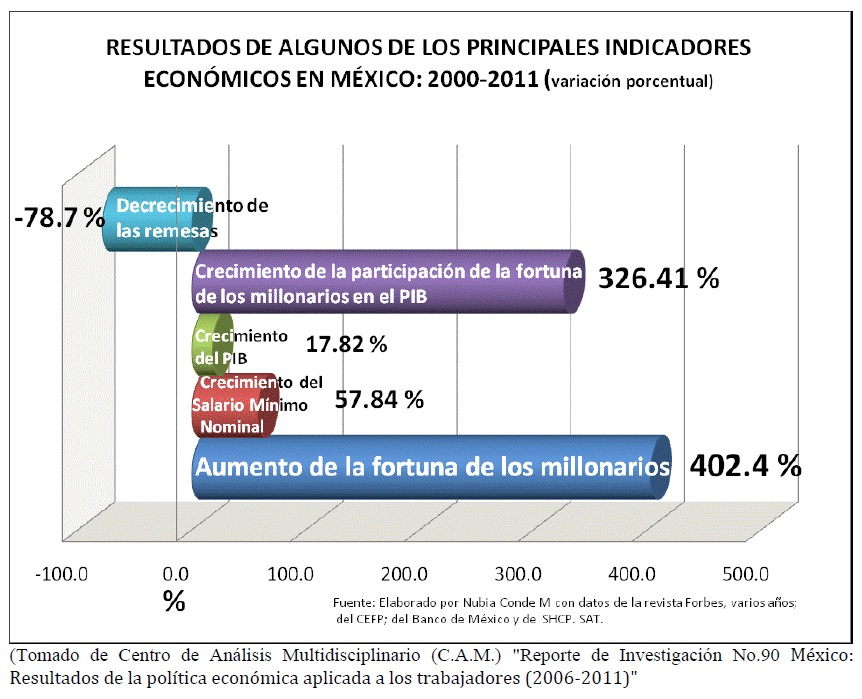 [First bar: Decrease in remittances: -78.7%
Second bar: Increase in the role of millionaire fortunes in GDP: 326.41%
Third bar: Increase in GDP: 17.82%
Fourth bar: Increase in nominal minimum salary: 57.84%
Fifth bar: Increase in millionaire fortunes: 402.4%]
Taken from the "Research Report No. 90 Mexico, Consequences of the economic policy applied to workers 2006-2011, Center for Multidisciplinary Analysis (C.A.M.)
To all of this we would have to add the loss of employment due to the closing of workplaces. Among those is the criminal blow to the Mexican Electricians Union. That attack was headed by the criminal secretary of labor, Javier Lozano Alarcón (who will be remembered also for his gangster extorsions—Zhenli Ye Gon and the 205 million dollars for the electoral fraud of 2006), and "acclaimed" by the mass media.
Of course, the gigantic propaganda campaign against workers of the Mexican Electricians Union (including the threat of punitive action against its leaders), accused of indolence as if it were terrorism, should be contrasted with reality: if these workers were so lazy and useless, how is it that there was electric power in the central zone of the country? How did the televisions that now attack them function, or the newspapers that slander them, the radio stations that defame them? And the deficiencies now plaguing the majority of homes in this part of the country with the Federal Electric Company? And the bills that now come in exorbitant amounts?
But the resistance of these workers has not gone by unperceived. Not for us.
And while the world crisis begins to surface in the national economy, the political class continues its idle laziness.
The calendar above arrived at 2012 on December 1, 2006, and over these five years it has done nothing but make evident that its calendars are good for nothing, not even to decorate the fallen walls of the big house we still call "Mexico."
In the PRI, Beltrones and Paredes make calculations to displace Peña Nieto, who has been more concerned with taking a stroll through the media (there was money) than doing politics (there wasn't skill).
In the PRD, the uncoupled couple of López Obrador and Marcelo Ebrard begin to realize that everything depends on the party bureaucracies of the self-proclaimed institutional "left."
And the PAN of the national nightmare is a little man crazed with death and destruction looking for someone to cover his back when the presidential guards and the national palace don't anymore.
Although the disdain and debilitation of the party in government is great, Felipe Calderón Hinojosa gambles, wildly, with all of the resources within his reach to impose his plan. If he did it in 2006, he could easily repeat it in 2012. And he'll need to, because his cards are poor. Cordero, who promises his master that he will continue as such; Lujambio hoping not to be struck by the passing ray of light, Creel, whose gray suits him (and defines him); and Vázquez Mota, whose only argument is being a woman.
(I remember a discussion when Barack Obama and Hillary Rodham Clinton were battling over the presidential candidacy. Some feminists asked for support for Hillary because she is a woman. Some African Americans demanded support for Obama because he is of color. Time has demonstrated that there above they have neither color nor gender).
Meanwhile, like the Madame of a brothel, Elba Esther Gordillo pulls the petals off the daisy… and doesn't discard the possibility of launching her own candidacy, instead of supporting someone.
With such a pathetic panorama, it is logical, and even to be expected, that external pre-candidacies would arise… accompanied by all their colorful groupies.
In reality, outside the party cliques, the economic powers, and a few militants, taking over the presidency doesn't seem to interest anyone.
Apathy is being replaced by bitterness, and dreams that the Mexican political system will finally be buried for good are not few, and plebian hands carve on its tomb the epitaph, "It was done in the most difficult of ways, but the game has finally ended.
Meanwhile the war continues… and with it the victims…
III. Blame the Victim.
A North American psychologist, William Ryan, wrote a book in 1971 called "Blame the victim." Although his initial intention was a critique of the "Moynihan Report" which stated that poverty in the black population of the United States was due to cultural conduct and custom rather than social structure, this idea has most often been used in cases of sexism and racism (most frequently in rape cases, where the woman is accused of having "provoked" the rapist with her clothes, attitude, location, etc).
Although using a different terminology, Theodor Adorno described the phenomenon of "blaming the victim" as one of the definitive characteristics of fascism.
In contemporary Mexico, some high-ranking members of the clergy, government authorities, artists, and "opinion leaders" in the mass media have drawn upon this myth to condemn innocent victims (principally women and minors).
Felipe Calderón Hinojosa's war has converted this fascist characteristic into a whole program of government and system of justice. And the media outlets that have taken it on themselves are not few, thus permeating the thought of those who still believe what is said and written in the press, on the radio, and on television.
Someone, somewhere, once said that crimes against the innocent constitute a triple injustice: that of death, that of blame, and that of being forgotten.
All parts of this system in which we live keeps, cares for, and cultivates the name and the history of the murderer, whether that be for his punishment or his glorification.
But the name and the history of the victims is left behind.
Beyond their relatives and friendships, the victims are killed again upon being condemned to conversion into a mere number, a statistic. And in many cases not even that.
In Felipe Calderón Hinojosa's war, imposed on the entire Mexican society, with no distinction for social class, race, belief system, gender, or political ideology, yet another source of pain is added: that of tagging innocent victims as criminals.
Thus the empire of impunity is disguised as a "balance of accounts between narco-traffickers."
And this heavy tombstone also falls on relatives and friends.
The reigning injustice not only functions to guarantee impunity for government officials of all types—federal, state, and municipal—it also oppresses the families and friends of the victims. Their dead are killed again when their names and histories are socially discarded and their upright lives are deformed with the (condemnatory) categorizations lavished upon them by authorities and repeated ad nauseum by the media.
The victims of this war are thus converted into the guilty and the crime that mutilates or murders them is made a divine form of justice, "they were asking for it."
Felipe Calderón Hinojosa will be remembered as a war criminal, regardless of the fact that today, surrounded by embrace and scapular, he is called a great statesman or "savior of the homeland."
And his story will be remembered with bitterness.
He won't even achieve, and in this sense justice will not be served, the popular derision and ridicule that tends to accompany the exit of authorities from power.
His pathetic imitations of "tourist guide," the illegality and illegitimacy of his arrival to the presidency, his political failures, his responsibility for the economic crisis, the fact that his administrative team is made of thugs and bodyguards disguised as officials, his nepotism, his consolidation of what is now known as "the cartel of Los Pinos"; all of these disfigurements will remain in the background.
What will remain is his war, lost, with its trail of "collateral" victims: the irremediable defeat, debilitation, and disdain of the federal armed forces (and television series can do little or nothing to counter this); the handing over of national sovereignty to the empire of the muddied stars and stripes (we've said it before: the United States of America will be the only victor in this war); the annihilation of local and regional economies; the irreparable destruction of the social fabric; and all of the innocent blood, always innocent blood…
It could be that death has no cure.
That nothing can fill the abyss of loneliness and desperation left by the death of an innocent person.
It could be that that nothing can be done to give life back to the tens of thousands of innocent dead in this war.
But what can be done is fight this fascist thesis of "blaming the victim" by naming the victims and thus recovering their histories.
Free them from blame and oblivion.
Allieviate the pain of their absence.
_IV. Naming the dead and their history.
Mariano Anteros Cordero Gutiérrez, was his name. He was about to turn 20 when he was killed on June 25, 2009, in Chihuahua, Chihuahua.
Mariano's father, attorney Mariano Cordero Burciaga, interviewed then governor of the state of Chihuahua,
José Reyes Baeza, who told him that the murder had been the result of confused street violence. A few weeks later, the College of the State Bar of Attorneys requested an explanation of the events from the corresponding authorities. The authorities responded that the violence had been "a balance of accounts between narco-traffickers." Blame the victim.
Some snippets of his history:
Mariano studied business management engineering at the Technological Institute of Parral (ITP) and had been accepted into law school at the Autonomous Spanish University of Durango, Parral Campus.
Before his studies he was a volunteer missionary at the Marista school in the village of Chinatú, Municipality of Guadalupe and Calvo, Chihuahua. He was responsible for 32 indigenous children in primary school there.
Mariano was a young Zapatista, of the kind that fight without masks. In March of 2001, he participated with his father in the civilian peace chains in the March of the Color of the Earth. In 2002 he marched in the various alter-globalization protests in Monterrey, Nuevo León, where a summit of heads of state was taking place, where Bush was present but also Fidel Castro. At the moment of his death, Mariano had in his backpack a copy of the Sixth Declaration of the Lacandon Jungle, the Communist Manifesto, and the most recent book he had acquired, "Sleepless nights of fire."
When we made our first journey of the Other Campaign to the north of Mexico, when we passed through Chihuahua, young Mariano attended one of the meetings. Upon finishing, he asked to talk with me alone.
The date? November 2, 2006. A few weeks earlier, on October 17 of that year, Mariano had turned 17.
We sat down in the same room where we had had the meeting. Mariano told me, in so many words, that he wanted to come live in a Zapatista community. He wanted to learn.
I was surprised by his simplicity and humility; he didn't say he wanted to come help, but to come learn.
I told him the truth: that the best thing was for him to finish his degree at the university, because here (and there, and everywhere) people of honor finish what they started; and that he shouldn't cease to struggle there, in his land, with his people.
Then with his studies finished, if he still wanted the same thing, he would have a place with us, but at our side, not as a teacher nor a student, but rather as one more of us.
We closed the deal with a handshake.
Seven years before, May 8, 1999, when Mariano was 9 years old, I had written him a message on a sheet of notebook paper.
"Mariano: the moment will come (not yet, but it will come, that much is sure) in which on your path you will meet others whose paths cross yours, and you will have to choose one. When that moment arrives, look inside yourself and you will know that there are no options, that there is only one answer: to be consistent with what one thinks and says. If that much is solid, then neither the path nor the pace matter. What is important is the truth with which one walks."
Today we name Mariano, and his history, and from this geography we send his family a brotherly/sisterly Zapatista hug that, though it doesn't cure, does alleviate…
V. To Judge or to try to understand?
We have also, from our geography, tried to follow with attention the path of the Movement for Peace with Justice and Dignity, headed by Javier Sicilia.
If judgment and condemnation or absolution are the preferred paths of the commissioners of thought that appear on various points of the intellectual spectrum, then here we think that an effort has to be made to try to understand various things:
The first is that this is a new mobilization that, in its project to constitute itself as an organized movement, goes about constructing its own paths with its own victories and pitfalls. As with everything new, we think that it deserves respect. They say, with reason, that one can question the forms and the methods, but not the causes.
The attempt to understand, instead of making summary judgments, is worthwhile, but something that comes at a very high price for those who don't tolerate anything that isn't under their direct control.
And to respect and understand one has to look above, but also to look below.
It's true that it is notable and irritating to see the affection shown to those above who are directly responsible for so much death and destruction.
But below we see that, for the families and friends of the victims, it may awake hope, comfort, and company.
We thought that perhaps it was possible that a movement would arise which would be capable of detaining this absurd war. That doesn't seem to be the case (or at least not yet).
But what can be appreciated already is that this movement has made tangible the victims.
It took them out of the crime scene and statistics, out of the mythical "triumphs" of the government of Felipe Calderón Hinojosa, out of blame and out of oblivion.
Thanks to this movement, the victims begin to have a name and a history. And the tall tale of "combating organized crime" begins to crumble.
It's true that we don't yet understand why the movement has dedicated so much energy and effort to interaction with a political class that long ago lost any will to govern and is really no more than a gang of criminals. Maybe they will go about discovering it for themselves.
But we don't judge and, thus, we neither condemn nor absolve. We try to understand their steps and the yearning that drives them.
In sum, the dignified pain that embodies and moves them deserves our respect and admiration.
We think it is logical that they dialogue with those responsible for the problem. In this war, it is reasonable to direct oneself to the person who launched and escalates it. Those who criticize the dialogue with
Felipe Calderón Hinojosa forget this elemental part.
With regard to the forms that this dialogue has taken, critiques of every kind have rained down on the movement.
I don't think that Javier Sicilia is kept up at night by the corrupt critiques of, for example, Paty Chapoy of La Jornada, Jaime Avilés (equally frivolous and hysterical), or the vileness of Doctor ORA (who nowhere says he is of the left nor congruent) who has said everything save that Sicilia had his own son killed in order to propel the image of Felipe Calderón Hinojosa; or the scolding of Sicilia for not being radical, made precisely by those who claim as a victory "not having broken a single window."
In his correspondence (and I believe also in some public acts), Javier Sicilia likes to recall a poem from Kavafis, especially a verse that says: "you need not fear Laestrygonians or Cyclops, nor the cholera of the angry Poseidon." And the hysterical critiques mentioned above aren't even close to that, since the pathetic grudges of these little men don't reach further than their few readers.
The truth is that this movement is doing something for the victims. And this is something that none of its "judges" can claim for themselves.
What's more, neither Javier Sicilia nor any of his friends show disdain for the critical observations that they receive from the left, which are not few and are serious and respectful.
But we cannot forget that these are observations, not orders.
I transcribe here the end of one of the private letters that we sent him:
On a personal note, if you allow me, I'd tell you to continue with poetry, and art in general, at your side. In these you will find much firmer grips than those that appear to abound in the tuneless hot air of the political "analysts." 
That is why I want to finish this letter with these words from John Berger:
"I can't tell you what art does and how it does it, but I know that frequently art judges the judges, seeks vengeance for the innocent, and projects into the future what the past has suffered, in such a way that it will never be forgotten. 
I know also that the powerful fear art, in any form, when it does this, and art sometimes runs like a rumor and a legend among the people because it gives meaning to what the brutality of life can't, a meaning that unites us, because in the end it is inseparable from justice. Art, when it functions as such, becomes a place of encounter for the invisible, the irreducible, the everlasting."
In the end, maybe all of this has nothing to do with anything (or something, depending)…
VI.- A small story
Maybe relevant here is a little story that I'd like to tell you, Don Luis:
On May 7, 2011, a column of vehicles left at dawn from the Zapatista zone Tzotz Choj, transporting men and women support bases of the EZLN who were going to participate, along with the other zones, in a mobilization in support of the Movement for Peace with Justice and Dignity headed up by Javier Sicilia. At 6am, one of the vehicles turned over and in the accident our compañero Roberto Santis Aguilar was killed. Roberto had become a Zapatista very young, and he chose "Dionisio" as his nom de guerre.
The history of compañero Dionisio is illuminated by its simplicity as told by his parents and his wife.
His father says that, in their family, it was Dionisio who was the first to become Zapatista.
"So we were working here in the cornfield and he was sizing up the moment to talk, he saw that there weren't people around anymore, and he said hey let's talk a little. There's an organization, I've heard it's really good. And he began to tell us, to explain, with his brothers there, he began to talk about this organization, it seems there could be help for us there, that's what he said. So we all joined, but first we listened to his word, then the rest of us joined, little by little things came together, the people too. So we joined the organization. In those days we were really screwed, there wasn't any land to work, there just wasn't any at all, we were really poor, really at the edge. The bad government does things like that, before we had gone to talk and see if there was a way to get a small piece of land, and the government paid no attention to us, that's why when we heard about this organization on this path, we joined, we joined in the year 1990."
Four years later, now as Zapatista militant, compañero Dionisio formed part of the regiment that took over the municipal headquarters of Altamirano, Chanal, and Oxchuc. He was carrying a 20 caliber rifle. The government garrisons were defeated in those town plazas, but in the retreat compañero Dionisio and other militants were taken prisoner and tortured by priistas in Oxchuc.
Perhaps you remember, Don Luis, the images that were repeated tirelessly in the national and international media: the Zapatistas severely beaten, tied to a kiosk in the center of Oxchuc, the priista mob screaming and threatening to burn them alive. A government helicopter took them to the Cerro Hueco prison, where they were subjected to continuing interrogations with torture. They had Dionisio there 15 days without food, with just water, and they took him out every day at 4 in the morning to throw cold water on him. He never gave them any information. He was freed later, along with other Zapatista prisoners, in exchange for the prisoner of war, General Absalon Castellanos.

After that came the dialogues at the cathedral, the dialogues of San Andres, the signing of the Accords, the reneging of the government, and the Zapatista resistance.
Tens of thousands of men, women, children, and elderly people refused to receive governmental aid and initiated a process of constructing autonomy with their own strength and the help of national and international civil society.
El compañero Dionisio was chosen as an authority in the Zapatista Autonomous Municipality in Rebellion and was president of the municipal production commission. When the Good Government Councils were born, he was a member of one of them. Upon finishing his community service as an autonomous authority, he took on local responsibilities in his community.
His wife tells us how he did his work:
The compañero, before going to work he always said he didn't care about the time he would lose. And it wasn't like he had enough money, he barely had enough to pay transport to go where he had to work, but he didn't care about using his time this way, he took only pozol to drink. This is what he said when he went to work, that this is what our struggle needs. And he said that he was truly convinced of this struggle, that he wouldn't leave it no matter what kind of suffering came, he was truly convinced of the struggle. The compañero liked work, he didn't care if he didn't' have money, because what he liked was the work. Whenever he went out on his commission or to do work as part of the council, many people on this ejido (collective tract of land) were against him because he was working for the organization, and since he is an ejidatario, they would always try to charge him a fine if he wasn't in the meetings or present during other work in the ejido.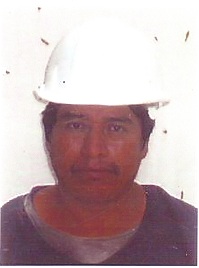 When compañero Dionisio did his work on the autonomous council, his wife stayed in the community working in the cornfield or carrying wood. And they shared the work. When the compañero returned from working in the council offices, he'd arrive at his house and the next day he'd go out at 4 or 5 in the morning to work, either in the cornfield or other jobs, but his wife always accompanied him to do this work, they shared it between the two of them.
The day of the march, on the 7th of May of this year, they got up at 2 in the morning and started to get ready, grinding corn for tortillas, preparing food to leave for their children, and making pozol to take on the march. His wife says that whenever compañero Dionisio left to do work he would say that one could never know if he would return. That morning he left really happy. His body was brought back accompanied by many Zapatista support bases.
They accompanied it all the way back to his house.
When we spoke with the relatives of the now deceased compañero Dionisio, they asked us to pass on these messages to those who are fighting against the war of the bad government:
His father: This message is for the compañero Javier Sicilia and other compañeros whose children have been killed in their search for good, I send them this message of encouragement in their struggle, that they can defeat the bad government.
His wife: This message is for the compañero Javier Sicilia and other compañeros whose children have died, courage and energy in your struggle, don't stop fighting, we can fight together.
His mother: keep fighting, keep going in your struggles, as always in this situation, if we are willing to struggle these things happen. Keep struggling, you are not alone.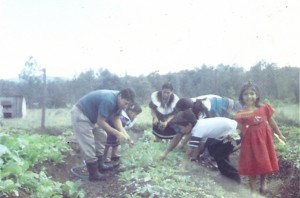 It's true, they aren't alone.
The compañero Dionisio's story is simple and, like that of all Zapatistas, can be summed up like this: he didn't give up, he didn't give in, he didn't sell out.
-*-
Hmm… well this letter turned out long. Imagine how long what I give to Don Pablo González Casanova will be, seeing as I owe him not a letter but a book.
And now that I'm rereading this before sending it, it occurs to me that maybe nothing in it has anything to do with what we are reflecting on in ethics and politics.
Or maybe so?
Cheers. Health to you and I hope there are more efforts to understand and less to judge.
From the mountains of the Mexican Southeast.
Subcomandante Insurgente Marcos.
Mexico, July-August of 2011.